Team Profile
Working For You, NOT The Banks!
Michael Boccia
Mortgage Agent -
License # M17002028
Markets Served:

2 Farningham Cres
Toronto, ON M9B 3B5
Office: 416-898-4209
Fax: 866-279-1506

Apply
Email
I am Michael, a Mortgage Agent with the Mortgage Train. I am also a proud husband, father, Toronto home owner, landlord, and mortgage holder.
With the always changing mortgage landscape, it has never been more important to work with a knowledgeable and respected mortgage agent to answer any of your questions or concerns. When my wife and I purchased our home, the advice and options given by our mortgage broker allowed us to enter the market and buy a home in an area that we thought was beyond our reach. That is why my focus is to help people achieve their home ownership dreams.
My long time interest in the real estate market combined with a background in economics, focus on customer service and experience in the home buying process allow me to offer my clients a first rate service. My commitment is to offer all of my clients a customer focused experience and provide timely and accurate information. I know through purchasing my own home that it is an extremely stressful time. I want to help alleviate some of that stress by finding the right mortgage for you; one that offers the terms that suits your needs perfectly. My goal is to find you the lowest interest rates with the best mortgage terms available no matter your situation.
Download my Mortgage Planner App
My Mortgage Planner App gets you access to a wide variety of premium tools to help plan your mortgage.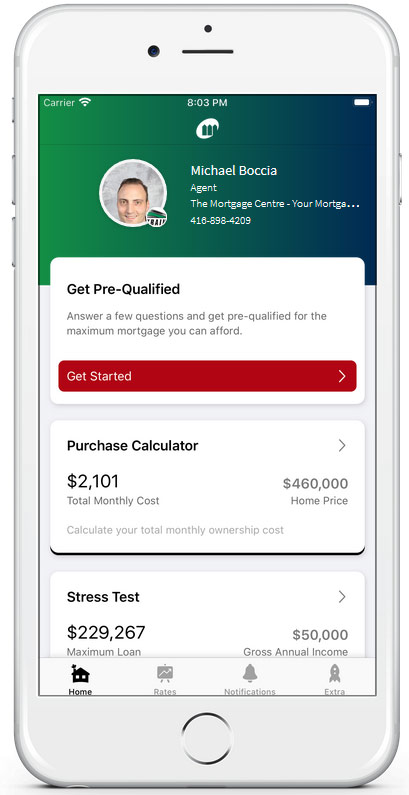 What can you do with my app:
Calculate your total cost of owning a home
Estimate the minimum down payment you need
Calculate Land transfer taxes and the available rebates
Calculate the maximum loan you can borrow
Stress test your mortgage
Estimate your Closing costs
Compare your options side by side
Search for the best mortgage rates
Email Summary reports (PDF)
Use my app in English, French, Spanish, Hindi and Chinese